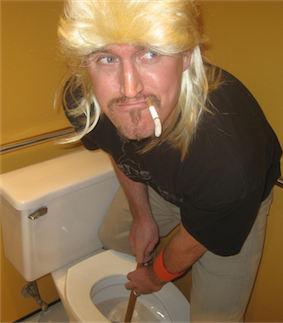 Is your message tangled in the web?
Let me
unclog the tubes.
Integrating communications across traditional and digital media can be a challenge. When you equivocate, your customers tune out. So don't make your message more difficult than it has to be.
I'll help you—and your customers—make sense of the chaos by simplifying your message to build believability.
But enough about you. Let's learn more about me.
My name is
Sean Biehle
and I want to work with you.
(That's me, up there, helping unclog the tubes.)
I'm a Taurus who enjoys rainy Sunday afternoons, open source technology, and unicorns.
Why would I want to work with you, you ask? Well, my inquisitive friend, this site is designed to answer all† of your questions, but if you'd like to take me for a test drive, you can watch a video of other people working with me here.
You can also read more about me here »
And what about you? Tell me about yourself »
Top 10 Reasons to work with Sean Biehle.
I will occasionally, for no other reason than the fact I like working with you, buy you a beer.
I use my brain to think critically and engage in creative problem solving.
I'll get you a pony.
I tell it like it is. Because, despite what Colonel Jessep says, I think you can handle the truth.
I eat cannibal, it's incredible.
I work effectively independently, in a team effort, or leading others. Basically, I'm a pretty cool guy to have around. Or not.
As a married man, I have extensive experience apologizing.
I bring the right amount of perspective and humor to every project.
I can handle multiple tasks at the same time (I'm actually writing this while eating lunch).
I communicate using words you understand.
Featured work
†Okay, maybe not all of your questions, but a good number of 'em, anyway. For unresolved questions, the answer is, "42."